I've been wanting to make the Orange Glow Chiffon Cake from the moment I saw it on the pages of
Rose's Heavenly Cakes
. I love cakes flavored with oranges (or anything citrusy for that matter), and I really love that this one is just made out of pure oranges and nothing else -- not mixed with chocolate like the True Orange Genoise or even chocolate with the added pastry cream as in The Bostini (although both sound very delicious and are on my to-bake list). I just wanted to bake a cake that would be really good to eat on its own without any adornments or fancy frostings but only accompanied by a "billow of orange marmalade whipped cream on the side," as Rose states in her introduction. Sounds so simple and perfect for afternoon tea! I also decided to bake this cake instead of the others I drool over a lot because I wanted to stay away from butter cakes for now since my most recent blood work showed a borderline high cholesterol level (probably due to my recent Holiday binge eating LOL). Well, the question is IF I can stay away!
I didn't have navel oranges on hand so I decided to use the blood oranges I had bought a few weeks ago which I had intended to use for cheesecake but decided otherwise since I had doubts on whether it was an appropriate flavor to include in a Holiday dessert menu. I honestly think that these oranges are perfect for this chiffon cake because both the juice and the rind are very fragrant. The smell of both was really intense that it filled my kitchen with the lovely fragrance of freshly squeezed orange juice while I was baking. I followed Rose's tip of washing the oranges with dish soap first before getting the rind out because the flavor becomes somewhat better and it also removes whatever it is they spray on these oranges. I was a little hesitant to use blood oranges at the beginning because I knew the juice would be dark red and I was worried that it would give the cake a weird orange tinge. Thankfully, the batter lightened up after a few minutes in the mixer.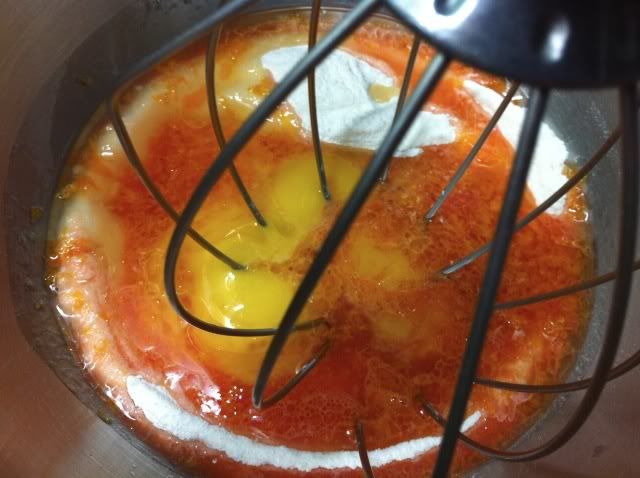 I was also excited to try out making a chiffon cake using my 9" springform pan and flower nail as shown in RHC. Normally, I'd make chiffon using either a tube pan or 2 - 9 x 2 pans, but this technique is so ingenious, not to mention fun to do, that I had to give it a try!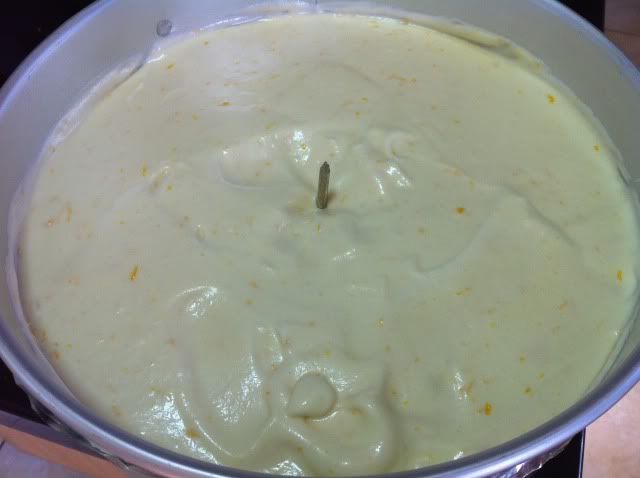 And the nail did indeed prevent the middle part from dipping!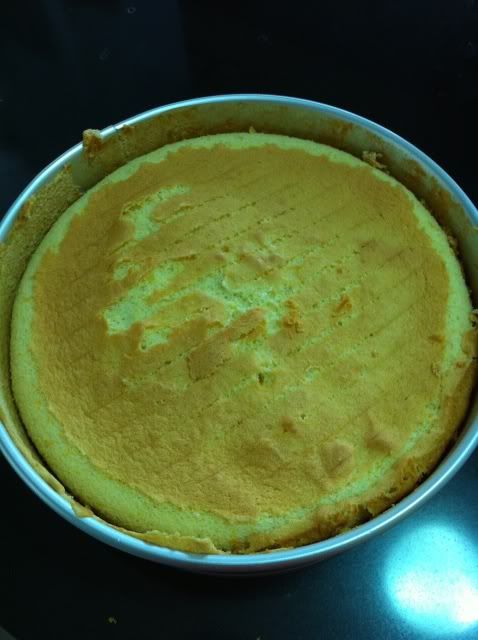 You can even still see the hole made by the flower nail which is really fine -- helps you gauge where the middle part is when slicing!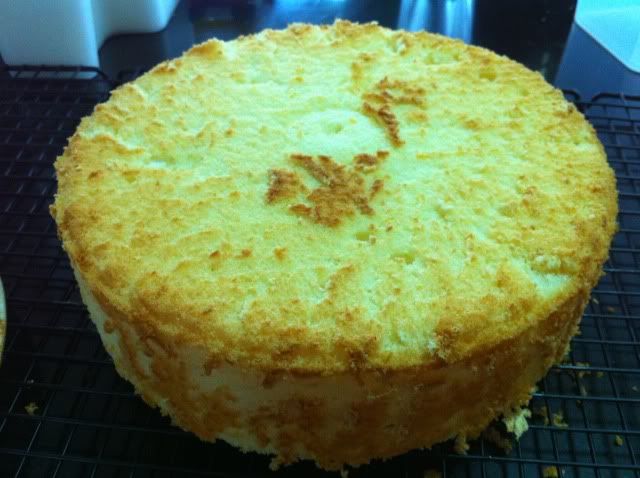 I rubbed the brown coating off the cake with my fingers to make it look perfect...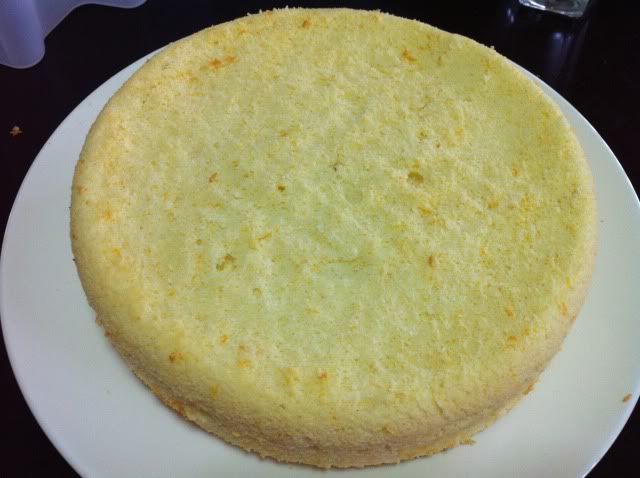 You can really see the orange flecks of the rind which makes the cake "glow." Now I understand why this cake is aptly named "Orange Glow"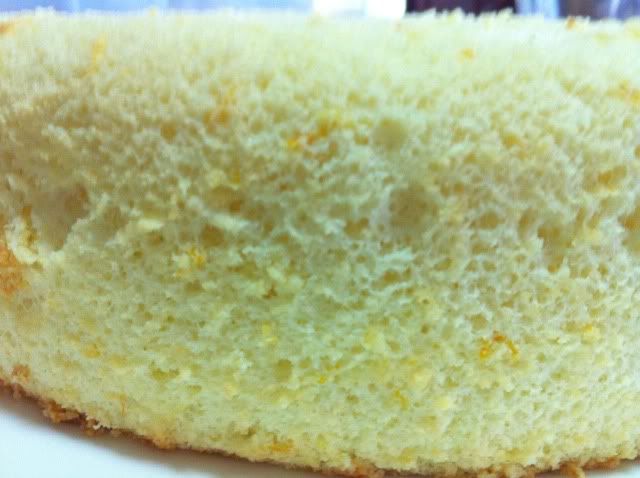 Even with wanting to avoid cholesterol, I still made the orange marmalade whipped cream! So perfect with this cake, really intensifies the orange flavor even more. On its own the whipped cream has a bitter note to it because of the marmalade, but together with the cake, it gives an added depth to the flavor that you wouldn't get from eating this cake on its own or even with just plain whipped cream. I think next time though I'll add around a tablespoon of fine sugar to the cream just to counter the bitterness a little bit. I also ran out of oranges to zest so I just added a few drops of orange oil. Would've been lovely to see flecks of orange rind in the cream too!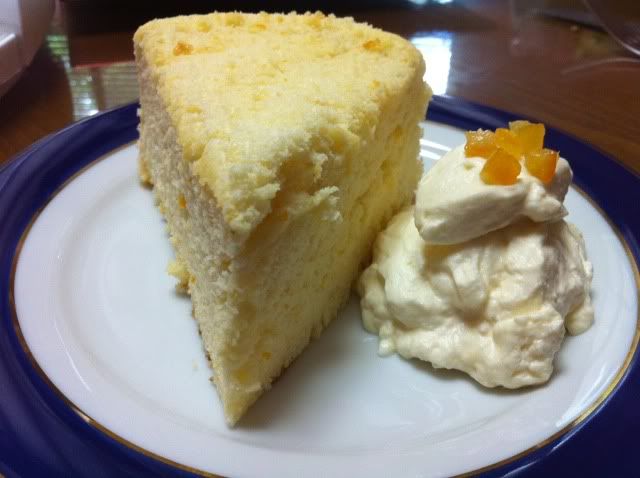 VERDICT: Truly delicious! If you're a fan of orange cake then you should definitely make this. It's already on my list of favorite citrus-flavored cakes. It really melts in your mouth as described by Rose, intensely orangey, and the accompanying whipped cream, although optional, really completes the cake!
P.S. The slice of cake in the pic including all of the cream on the side are now inside my tummy!