The 1/2-pound Tahitian vanilla beans that I ordered from Amazon just got here a few days ago so I decided to use it on the dessert I made for last Sunday's Gutsy Cooks Club dinner. I chose to make Rose Levy Beranbaum's Heavenly Vanilla Bean Angel Food Cake from her book Rose's Heavenly Cakes (can you tell this is my favorite cake book? LOL) which is the vanilla version of her Chocolate Tweed Angel Food Cake. The cake makes use of the scraped seeds of one Tahitian vanilla bean that you process with half of the sugar (yum!) and since I was left with around 16 egg yolks because of this cake, I decided to pair it with Creme Anglaise, from RLB's Chocolate Raspberry Trifle recipe (also from the same book) which is flavored with even more vanilla beans! I then added blueberries and raspberries, the tartness of which made everything perfectly balanced.
I don't remember the last time I made Angel food cake or if I even made this kind of cake ever so I made this fully prepared to make something else just in case it didn't turn out successfully (with the egg yolks I was left with I could've made flan or creme brulee). This is really such a simple cake with simple ingredients but requires a little mastery of the folding technique so you're not left with a deflated batter and hence, a deflated cake.
With the amount of egg whites this recipe called for I was afraid that it would overflow from my 5-quart KA bowl.
But thankfully it didn't but I had to transfer the meringue into a larger bowl with a wider opening so I could properly fold the flour into it. Since I used cake flour, I had to sift the flour into the egg whites. I wish they would start selling Wondra flour here!
According to Rose, the center should rise around 2 inches above the pan then sink to almost level with the pan when the cake is done. Mine did rise the way she described it, but the center sunk lower than the level of the pan. I thought right then that I would end up with a deflated angel food cake.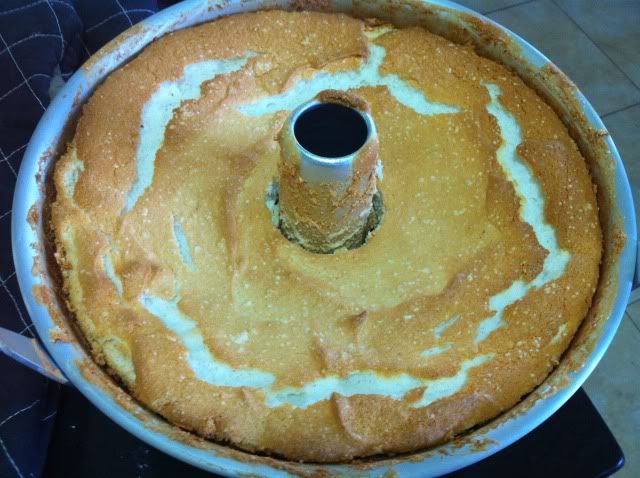 I was overjoyed when the cake didn't fall from the pan when I inverted it.
You can see the yummy flecks of vanilla seeds in the cake!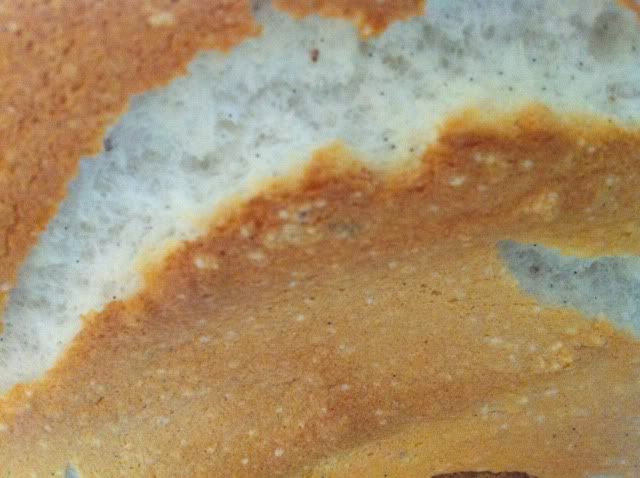 I wonder if the sides would've been a lot better if I had prepped the pan with the batter first? But still looks good to me and at least it's not deflated or lopsided!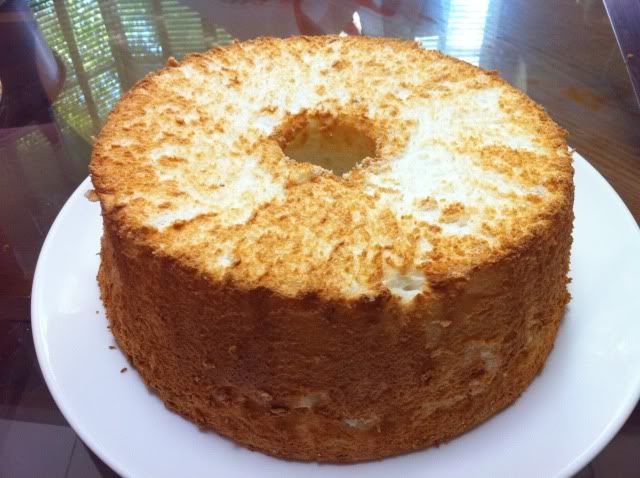 I wasn't able to take close up pics of the crumb and my photos are a little blurry, but I was pretty satisfied with how this cake turned out.
VERDICT: Nothing exciting when eaten on its own but with the Creme Anglaise and the berries, it is very good! I can't say that I tasted the vanilla flavor as much given the amount that I placed in the cake and the creme (I wonder if Madagascar Bourbon beans would've been better?). Overall, it was a good ending to our very rich Mexican Beef and Polenta dinner and I especially liked this one with the awesome tartness of the raspberries. I really didn't taste the blueberries and I think I would omit this in the future and replace it with strawberries, blackberries, peaches or even mangoes. Or I think a yummy fruit compote topped with whipped cream would also make a yummy alternative!